25 Examples to End a Cover Letter Brilliantly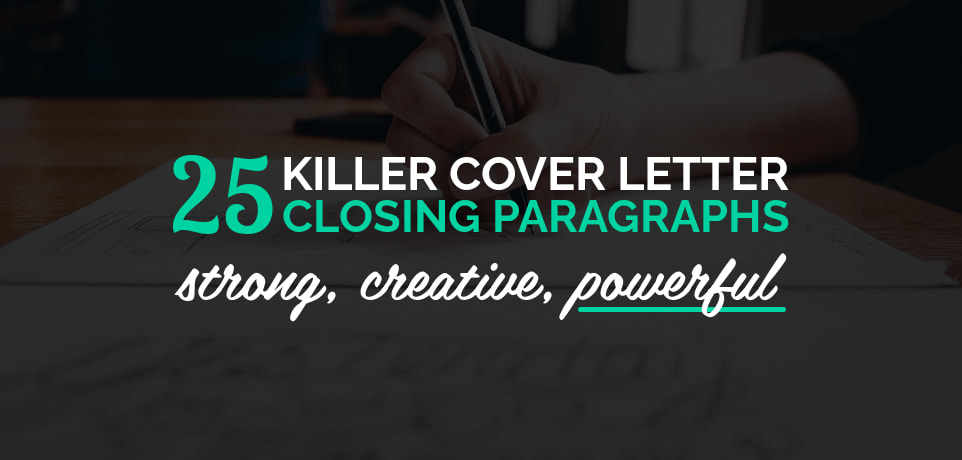 Knowing how to end a cover letter is key, because it's the last impression you leave on the recruiter. After reading the closing paragraph, recruiters will decide whether or not to invite you for a job interview.
The secret is to make the recruiter want to meet you and find out more about you.
Here are 25 examples to help you conclude your cover letter and get an invitation to a job interview.
99.99% of candidates write the same closing sentence in their cover letter, practically word for word. It goes something like this:
❌ I would be delighted to provide you with any further information you may require. I hope you will consider my application and look forward to meeting you.
A bit banal, isn't it? And not very personal.
The aim of the game is to stand out from the crowd, not to be like everyone else! So instead of copying and pasting ready-made formulas, do a little brainstorming to put the finishing touches to your cover letter. Make sure the recruiter wants to know more about you, and wants to meet you.
Here's an example of a much more effective conclusion:
If the skills outlined above don't seem sufficient to increase your website sales, I would be happy to convince you in an interview.
A little more convincing, don't you think?
Here are 5 tips to bear in mind when writing your closing sentence, whether for an application e-mail or a cover letter:
Put yourself in the recruiter's shoes. What he's interested in is what you could bring to his company.
Don't beg the recruiter for a job interview. You're not there to ask for something, you're there to offer something.
Don't be too confident or too shy, or you'll come across as arrogant or unsure of yourself.
Keep it simple and avoid overly general formulas.
Don't feel obliged to write a concluding sentence just because you need one. It's obvious that you want to be invited to a job interview. You don't need to reiterate this. On the other hand, you can say that you'd like to meet the recruiter and talk about the challenges the company is facing, or that your skills could be useful to the company.
Here are 25 original cover letter closing paragraph examples that will help you stand out from the crowd. These examples can be used at the end of an application e-mail or in a cover letter, for a job, an internship, or an unsolicited application.
The best way to end a cover letter is to make the recruiter want to meet you (by arousing their curiosity).
I would be delighted to meet you and explain in detail how I managed to save €25,000 in advertising costs during my previous job.
Ending your cover letter with a promise is a good way to make the recruiter want to meet you to find out more.
I am looking forward to learning more about the position and your company, and also to sharing with you why my last employer said I was indispensable.
For example, you could say that you know of techniques that have already been tried and tested and that could be very profitable for the company (without revealing them).
I would be glad to show you in an interview how I could replicate the actions that increased my previous employer's sales by 15% a year.
Talking about your passion in your conclusion, especially if you have no professional experience, are applying for an internship or are making an unsolicited application without a specific position, is a very good approach. Recruiters value motivated candidates.
I would love to work for the company whose product and technology I find most impressive in the robotics sector.
If you really like what the company does, don't be afraid to tell it. Sincerity and honesty pay!
Having followed all Magnolia's developments since the beginning, I would be really glad to be able to contribute to the growth of the company I would love to work for.
You want to leave a good impression on the recruiter, so polish your cover letter's last sentence and wisely choose your words.
I have been following your startup since its launch in 2016 and would love to join the adventure to contribute to your international expansion.
Another good way to conclude is to keep it simple and straight to the point.
If you need a programmer you'll never see because the software bug meetings will be gone, then I'm your candidate.
Here is another example of a simple, efficient closing that clearly shows your motivation for the job.
I'm ready to take on the challenge you're proposing and would like to discuss some of my ideas with you in an interview.
Show your self-confidence. It's an asset.
That's why I think I'm the ideal candidate for the position of Marketing Manager, and why I'd be delighted to convince you of this in an interview.
A good way to end your cover letter is to mention (again) about what you could bring to the company.
I doubled the sales of my previous employer's ecommerce site in 18 months. That's what I'd like to do for you too, if we work together.
Conclude your cover letter by re-emphasizing your added value. It tells the employer that you know what is important to them.
I'd like to talk to you in more detail about the ideas and optimization techniques I could implement for your site to increase your sales.
And if any of the above should seem impossible or impractical, I offer to try them out in your park or any other place Your Excellency may please, to whom I humbly commend myself.
This is the end of Leonardo da Vinci's remarkable cover letter.
Talking about next steps or offering to arrange a date for an interview is a sign of self-confidence and can be very effective. This works very well for an unsolicited application to a young organization or a startup, or in a less formal cover letter (not recommended if you apply in a traditional company).
I'll be in London next week from March 15 to 18 and would be delighted to meet you then.
A bold, but polite ending that works like a charm!
I'd like to meet you to find out more about your business and how I can help double your website sales. Could we arrange a meeting?
If you are applying for a job that requires a lot of self-confidence (in sales for example), this is the closing sentence you need!
I'll call you next week to arrange a meeting.
Make it clear at the end of your cover letter that you have the skills the company needs. To do this, try to understand the objectives of the position and what the company is trying to achieve from the job offer.
One of my main objectives throughout my career has always been to understand my customers and match the company's services to their needs. This is the approach I would like to offer you.
If you can bring potential clients from your previous company to the new one, mention it!
In my previous experience, I have established many contacts with customers in the social economy sector. I'd be delighted to share this experience with you, and to devote the same energy to developing Economia's growth.
This is a great way to show your motivation, your proactivity and the fact that you will be up and running in no time.
I'm looking forward to using my experience as Sales Director to automate the acquisition of new customers and identify new market opportunities.
The famous PS at the end of the letter, the postscript. This is the trick that literally made hotmail explode in its early days and contributed to its success (PS: I love you at the end of the mail).
Proof of its effectiveness: this trick has since been adopted by Apple with its sent from my iPhone. It works because it's precisely what seems to be there not to be read that makes us want to read it.
This technique works just as well for a cover letter as for an application e-mail.
PS: I'd be delighted to show you how I improved the sales conversion rate on the Amazon's website by 35%, and how I could do the same for you.
It also creates a little bonding and proves your creativity!
PS: If we meet, you'll have no doubt that I'm the right person to modernize the Modulo fashion house.
This approach works very well for unsolicited applications.
PS: Could we arrange a meeting to discuss ideas for doubling online sales over the next 6 months?
A concluding sentence with a touch of humor can be a great way to get noticed by a recruiter. But be careful not to overdo it...
Relieve me of a burden! Invite me to an interview so I can finally tell my mother to stop calling me five times a day to ask how my job search is going. Rest assured: I won't be talking about my mother during the interview.
Adding some humor is a great way to get noticed by recruiters!
Have you ever met someone who can talk about Excel with passion? Let's find out in an interview.
This funny example should convince some recruiters to give you a chance for sure.
If you've got this far, my cover letter wasn't too bad. But I'm even better at interviews!
A cover letter last sentence that may arouse the employer's curiosity (and some sympathy as well):
I would be really glad to meet you and tell you why my former manager nicknamed me Dr. Excel.
For your cover letter ending phrase, avoid overly pompous formulas that nobody uses anymore., such as :
Prefer standard salutations, such as:
Best regards,
Kind regards,
Sincerely,
With best regards,
Best,
Thank you for your consideration,
Respectfully,
Regards,
Sincerely yours,
Yours truly,
If you're applying for a job with a modern company, "Best regards" or "Sincerely" are ideal for an application e-mail.