12 French CV Examples & Templates to Download (in Word)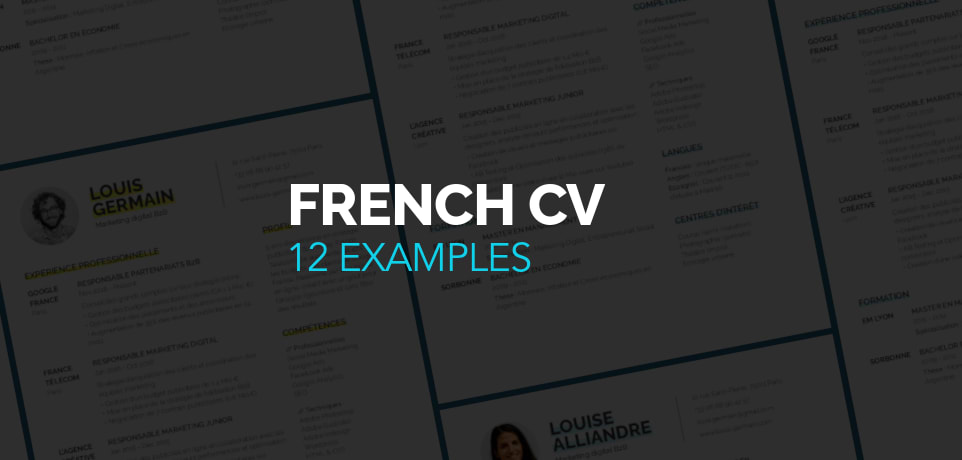 Are you looking for a job in France and need a perfect French resume, with the right format and wording? It is indeed much easier, safer and faster to start from a CV example written by a French native speaker or a pre-filled resume template made by a professional designer than starting from scratch.
Here is our selection of the 12 best French CV examples and templates in 2023 to download in Word (docx), Google Doc, Open Office and Libre Office formats!
➜ The best part: All templates are pre-filled and contain a cover letter sample in French as well.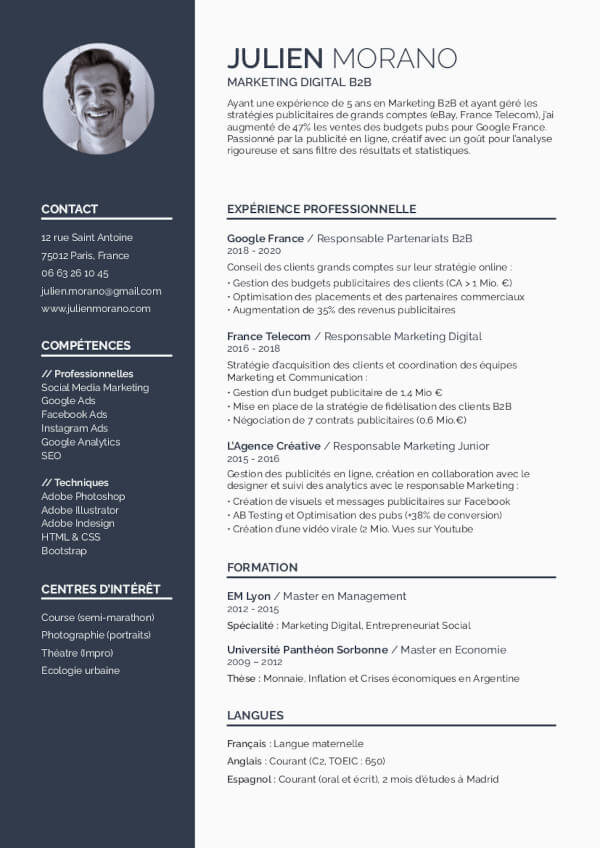 This CV in French with a simple and modern look, yet original, works very well for any type of position and profile (beginner, junior or senior).
It contains a profile picture (usual in France), a headline and a profile summary, as well as all categories required in a French résumé (work experience, education, languages and computer skills and contact details).
This is a very good example of a professional CV that conveys the image of a competent person that any recruiter would want to hire!
The positive points of the CV
A CV with 2 well differentiated columns (contrasting left column with a dark blue background)
A clear presentation of the different sections of the CV (CV title and summary, professional experience, education, languages, contacts, skills and interests)
The choice of colors and font that looks very professional!
A resume that is similar to the previous example with however a different tone, a lighter, more positive, more dynamic impression. This is a template that works very well for a position in marketing and communication in France.
The CV includes a pre-filled cover letter in French.
The positive points of the CV
A CV with two distinct columns but with a softer separation than in the previous example
The choice of a bright blue to highlight key information adds a dynamic touch to the CV
A resume that conveys the image of a person who is composed, calm, thoughtful, serious and efficient in their work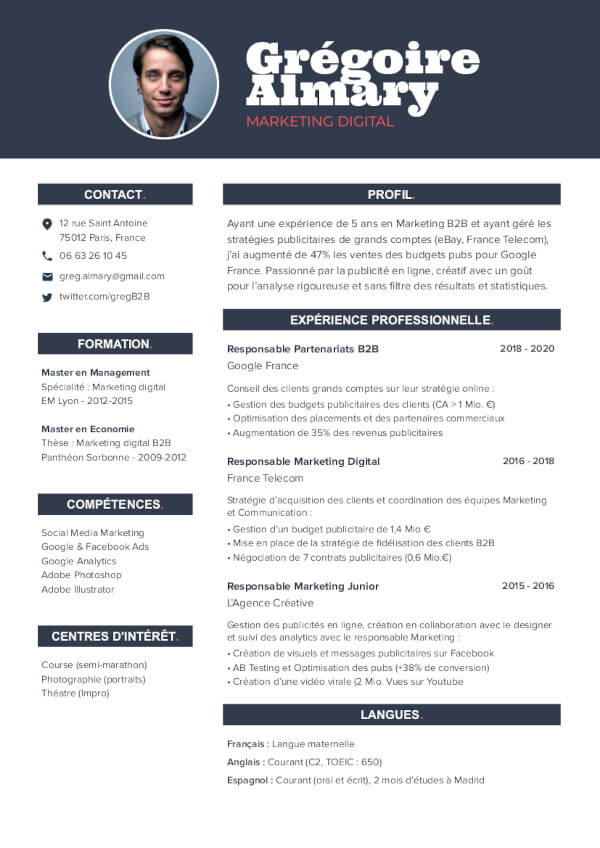 A beautiful, innovative, original pre-filled CV that is perfectly suited for a position in marketing or communication as well as in innovation and everything related to digital.
The positive points of the CV
The creative and original design of the CV with an attention to detail (red dots at the end of the headings)
The nice profile summary (profile picture, name and current position) with a beautiful font
The choice of colors (dark blue and light red)
The icons in the contact section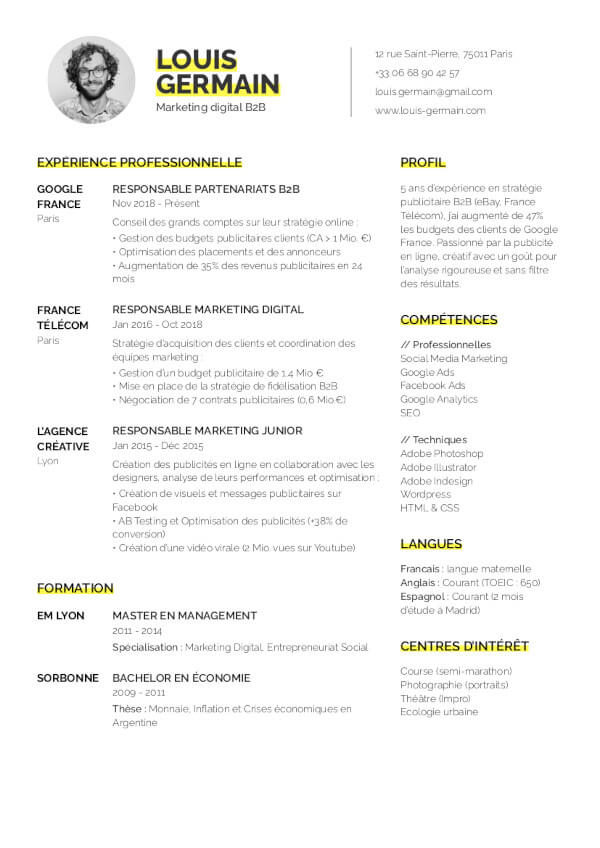 A lean, simple and minimalist resume template in French that allows you to stand out from other applicants with subtlety, without overdoing it. It is a sample that conveys the image of a serious, diligent and efficient applicant, who knows how to adapt and is a team player, which makes it a very effective CV, appreciated by recruiters.
The positive points of the CV
The modern highlighting of the headings and the candidate's name in yellow
The simplicity and sobriety of the resume
The bold presentation of companies in a separate column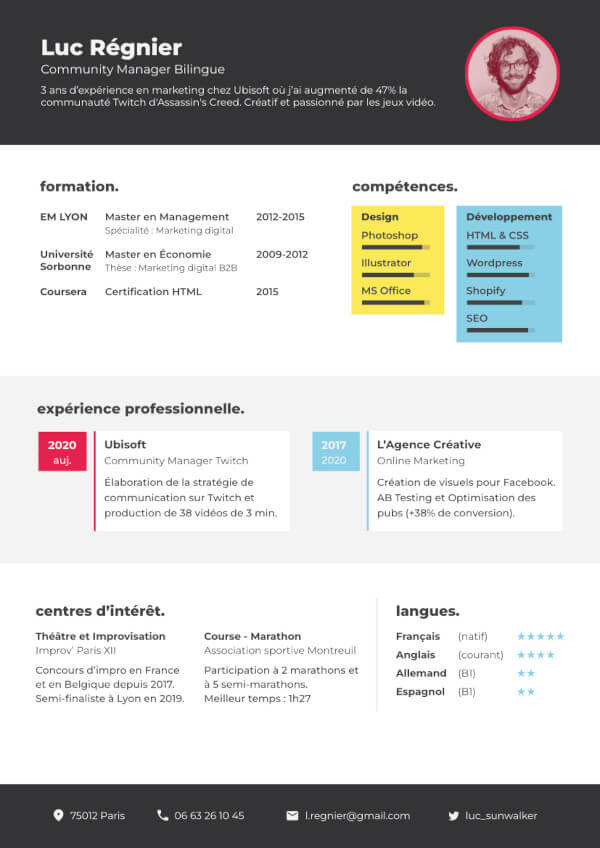 With its dynamic look, this colorful resume with a very neat design usually impresses recruiters and human resources managers a lot!
It is a resume that shows a perfect mastery of graphic tools, a sense of aesthetics and a taste for design and user experience (UI & UX). Even before reading the CV, the recruiter knows that the applicant has a certain number of computer skills.
It's a very beautiful CV that plays with colors but also with black and white. This CV convinces immediately, even before you need to read it. For this reason, it is extremely effective!
The positive points of the CV
The play of colors and black and white which brings contrast and dynamism to the CV
The layout and structure of the CV with distinct sections
An original, dynamic and modern resume
A simple but effective and original CV example, perfect for a student with no professional experience or for a junior computer developer starting out with little professional experience, whether for an internship or for a first job. The choice was to focus on the candidate's profile (name, CV title and profile / catchphrase) as well as on his IT skills.
It's a creative and visual CV that makes a strong impression on recruiters. This resume is well suited for a position in IT or software development, but also in design, illustration, communication or marketing.
The positive points of the CV
The dynamic style and look of the CV with its different colored headings and categories
The appealing colors that make the resume stand out: dark blue and yellow
The CV format and structure (one-column CV with sections)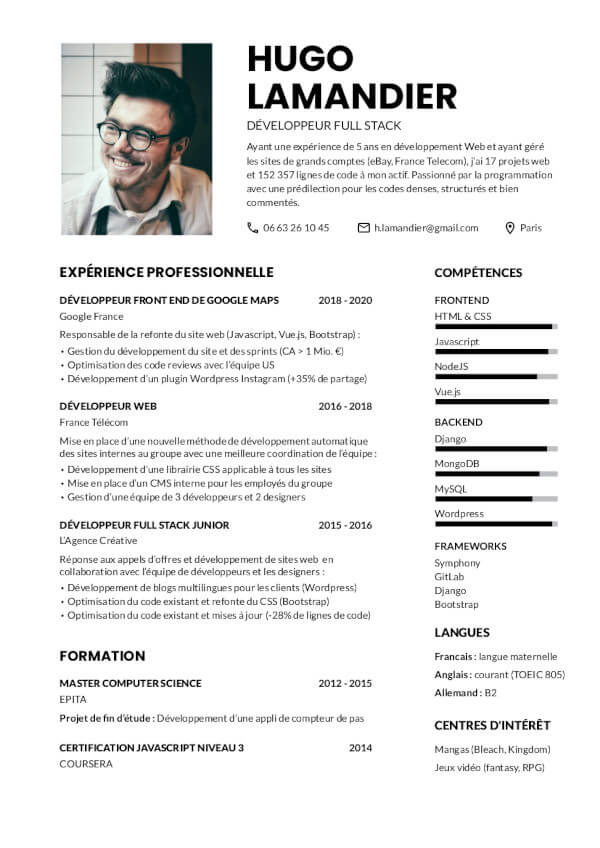 A black and white two-column resume with a beautiful layout and a modern typography that give it a very nice touch. This presentation, like a puzzle or legos, conveys the image of a skillful, logical and quick-witted applicant who loves his work and what he does.
The positive points of the CV
The about us category or profile summary that stands out in the resume
The emphasis on the applicant's key technical skills in the right-hand column
The layout of the CV with different columns that gives the image of a puzzle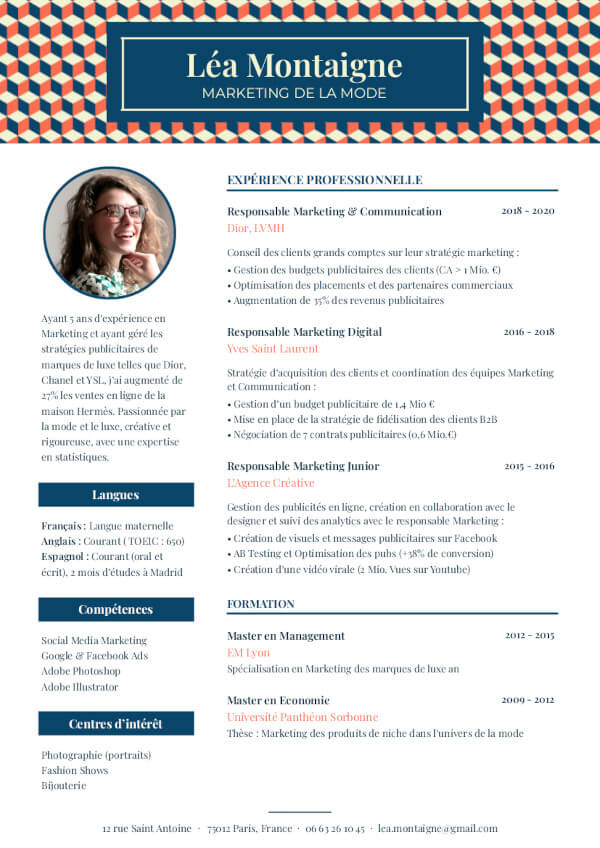 A very creative CV template with many touches of originality that is perfectly suited for jobs in the fashion and luxury industries. This resume is very popular among recruiters and immediately distinguishes you from other applicants.
It's a resume sample that conveys the image of a creative, serious and competent candidate, who already masters all the codes of the fashion and luxury brands.
The positive points of the CV
The beautiful resume headline
The layout and the structure of the resume
The design, typography, font and choice of colors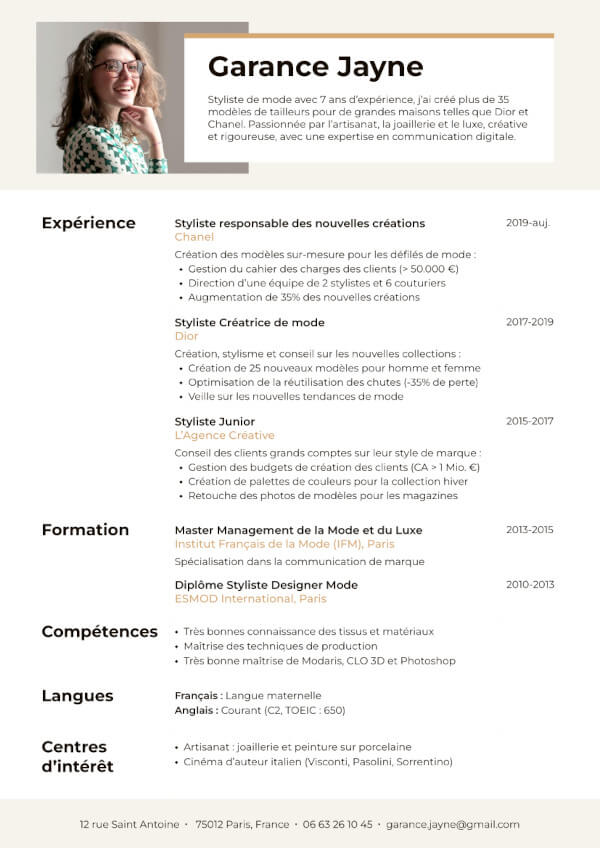 A great, original CV with a clean and minimalist design, thanks to its pastel colors and shades of beige. It is a sample that works very well for a model stylist, designer or fashion designer.
It is a CV template that conveys the image of a creative, mature and experienced applicant that is diligent and conscientious.
Positive points of the CV
A creative, original CV with a sleek design
The choice of pastel colors gives a reassuring touch to the CV
A one-column CV with well highlighted headings
An elegant resume template with a stylish design that is perfect for a position in sales, luxury or fashion for example. This is a CV that usually impresses recruiters a lot!
The positive points of the CV
A very elegant and luxury resume
The black and white style with a black and white profile picture
The elegant font with a typography worthy of a fashion magazine
Yes, definitely! This is probably the main difference between the French and English CV or resume.
It is not only common to add a picture to a French resume but not having a photo on your resume in France could work against you and prevent you from getting a job interview.
Do you need more advice?
Read our articles about How to write a French CV and How to write a French cover letter.